This post is my contribution to
The Breastfeeding Blog Hop
hosted by
Life with Levi
,
The Slacker Mom
, and
Diary of a Devil Dog Wife
. This week'ss topic is pumping. Feel free to link up, and please visit the other blogs listed below to share some BFing love!!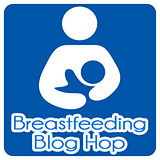 From the beginning, I didn't find breastfeeding all that difficult. We did have some latching issues in the hospital, but with the help of a nipple shield we got off to a great start! My milk came in (phew!), his latch caught on (finally!), and I reached my first initial goal (3 months). Success!
While pregnant, I had decided that love it or hate it, I would at least nurse for 3 months. So when that milestone rolled around, I set my next goal- 1 year. Things were going so well that I knew I'd make it to a year easy. Then it hit- the nursing strike. No matter what I tried, my darling little 4 month old screamed bloody murder at the sight of my breast. Everything I read said to be patient and keep trying...but not to be pushy. So I'd offer, he'd scream, and I would give him a bottle. My breast pump became my best friend, and I felt like a failure. I reminded myself daily that he was still getting my milk, and that was all that mattered; my broken heart felt otherwise. I missed the emotional aspect of nursing, and felt like i should be mooing as I pumped away my day.
During the month and a half I tried to work through the strike, we had just a handful of nursing sessions, each in the bathtub. I know the warm water relaxed both of us and calmed the mountain of stress I was carrying on my back. I could tell he found comfort in nursing, and that made our situation much harder on me. I considered our tub sessions a step in the right direction, but it wasn't long before they became screaming sessions instead. I finally decided that a month and a half of being rejected was all I had in me, and threw in the towel.
I realized though that since I'd already been pumping that whole time, there really was nothing keeping me from continuing. After doing a little research online, I was quickly empowered by the number of moms committed to exclusively pumping. (which is how i was introduced to
Life with Levi
's, Jen!)
Gabriel is 7 months old now, and I'm as determined as ever to make it to one year! Now that I have a good routine, and have become creative with when and where I pump, it's really not that big of a deal. I enjoy knowing I'm doing the best i can for my son. Sure I still feel a
little
like mooing.
MOOOOOooooooo!
That feels better.