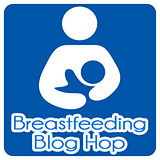 I had to laugh when I saw the topic for this week, Body Changes.
One of my closest friends breastfed her two kids, and really is one of only a few people I know that has breastfed. She by default then, became my go to person for all BFing related questions. We had a conversation somewhat recently about our bodies after pregnancy and BFing. It started with me asking about whether her "ladies" went back to their normal size after she was through BFing, and ended when her husband so very lovingly threw in his two cents- "Swing low, sweet chariot!" We all had a good laugh about it, and continued on with our evening. Since then, I've gone back and forth with whether I really find that funny. Most days- yes, it's hilarious! It's a fun way to appreciate a piece of my new identity, battle scars if you will. In all seriousness though, it's a small price to pay for the well being of my precious little boy. There are other days however, that I'm pretty peeved about the ladies swinging low....and I'm sure if it's bad now, it's really going to be bad when I stop breastfeeding, and worse after future nurslings. Yikes! As depressing as "swing low, sweet chariots" can be, there are a few things that make me feel better as I stand completely bare in front of the mirror, and try to lift the ladies back up where they used to stand during their former glory. First, is that my problem isn't anything my good friend Vicky doesn't have a secret solution to. One trip to her place and I'll be a hot, confident Momma! Second, and most importantly, my husband has a such an appreciation for them it's difficult to not feel proud!
So maybe,
just maybe
, "swing low sweet chariot" can be funny all the time??